MERCEDES BENZ G63 AMG - STAGE 1 (Milltek Catback Exhaust)
Stock (Dyno with Exhaust) 603Hp - 933Nm
507WHP
𝐒𝘁𝗮𝗴𝗲 𝟏 𝟔𝟔𝟎𝗛𝗽 - 𝟏𝟎𝟏𝟖𝗡𝗺
𝟓𝟔𝟖𝐖𝐇𝐏
𝐄𝐂𝐔 𝐌𝐄𝐃 𝟏𝟕.𝟕.𝐱
FORD FIESTA ST - STAGE 1+ (95Ron)
➡️ Stock (Dyno) 208Hp - 305Nm
📈 Stage 1+ 231Hp - 370Nm (95Ron)
➡️ Dyno Graph
What can I say, every time we see one we can only fall in love. Fun to drive, full-bodied engine despite being only a 1.5 3-cylinder, with the right mods, it can become the reference Hatchback on the market.
Significant increase in torque from low rpms, with peaks of almost 30 horsepower in the medium range. Maybe we were also expecting something more, but the intake temperatures certainly limited us by dropping to the top
That said, on the road it is a real animal and every time it crosses our mind that it would be nice to have a personal one to be able to develop this small 3-cylinder properly. Never say never. 😉
Partners in Crime:
BRS Motorsport - Revo Authorised Distributor
AUDI TT 8S S-Tronic - STAGE 1 (95 Ron)
➡️ Stock 230Hp - 370Nm
📈 Stage 1 285Hp - 423Nm
But how good does blue suit the new TT? Elegant and sporty. Nothing is missing.
One of the many 2.0Tsi we have found ourselves working on over time. Definitely an engine capable of embarrassing performance. Here in a version of the file requested by the customer with as much torque as possible already from low rpm.
In fact, we have developed several "softer" ones both for manual gearboxes and for front-wheel drive cars, which therefore go into traction crisis much more easily.
MB A250 - STAGE 1+ (95 Ron)
Arrival already mapped 212Hp - 384Nm
Stage 1+ 240Hp - 405Nm
Car has arrived already mapped by another tuner.
The customer was not fully satisfied with the result and wanted to try a dyno first and then improve where possible. We would say result achieved.
P.S. Do not ask us the name of the previous trainer because we do not know him and even knowing him we would not have disclosed him for professional ethics.
RENAULT CLIO RS - STAGE 2 ECU + TCU (98Ron)
➡️ Arrive (Already mapped) 222Hp - 275Nm
📈 Stage 2 233Hp - 342Nm (98 Ron)
➡️ Dyno Graph
Even on the Clio we can say that we have now gained a good experience, in particular on our combination of engine and gearbox software that we offer specifically at a discounted price.
The car in question comes to us already mapped, with Intake and Full Exhaust, but without intercooler, an element that as you will notice from the dyno test, has limited us a lot on the final result. On the other hand, the torque milestone reached and the delivery in the low mid-rev range were excellent, where we were able to make it express its true potential.
With over 50 degrees of air drawn in at the end of the dyno test, we certainly did not expect to reach over 240hp even if with 98ron petrol. But the customer promised us to assemble everything and maybe come back for a new test. 😉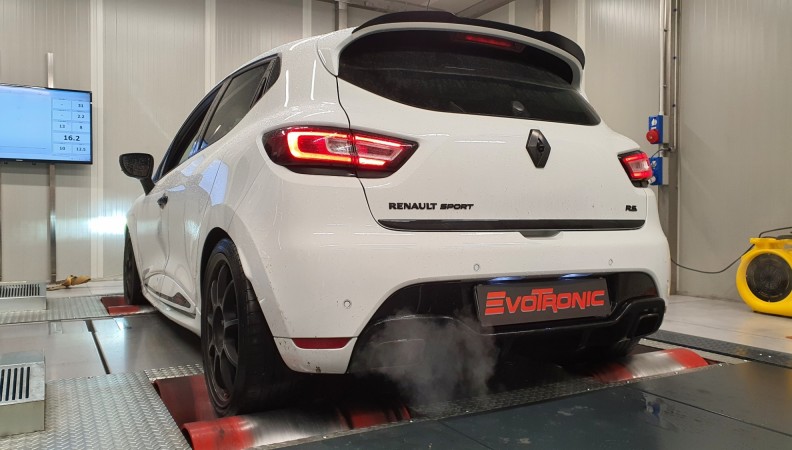 LAMBORGHINI URUS - STAGE 1+ ((Cambiocorsa Performance Custom Downpipes + Capristo Cat-Back)
Stock (Dyno with Exhaust) 646Hp - 840Nm
528WHP
𝐒𝘁𝗮𝗴𝗲 𝟏+ 𝟕𝟒𝟗𝗛𝗽 - 𝟏𝟎𝟔𝟕𝗡𝗺
𝟔𝟒𝟓𝐖𝐇𝐏
ECU MG1